Hi folks, yep, it's our 35th anniversary ( well...in November it was
) , for those that don't know me, I'm Colin Bates and I've been building hotrods professionally since '74......every now and then I'll do a resto but the main focus has always be on pre'48 hotrods and early Pickups . Lately there's also been a few mid 50's American cars thrown into the mix too , just for a little variety
I thought I might put up some pics of cars built over the years to show the changes in styles, but I'll start with a few shots of current cars in the workshop and a couple of our own personal rides.....
First up, here's a '33 Chevy Tudor, it's a Canadian import and it was a restored car....but we fixed that
.....
the Chev is being done in a resto rod style and will retain all the original external features as shown, including dual sidemount spares......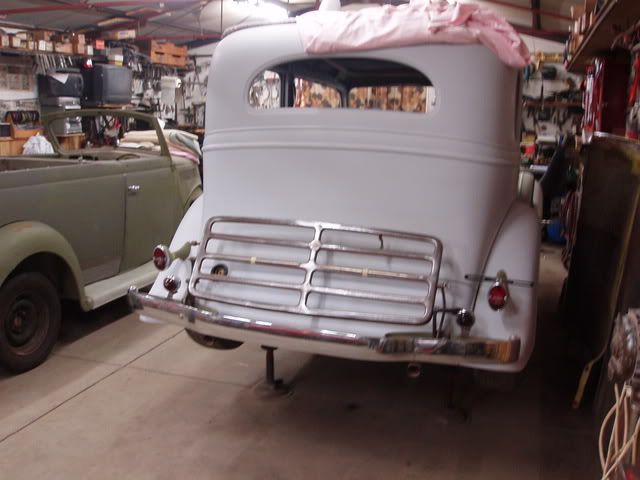 ....and luggage rack, 2 tone paint scheme is slated in the colours that once adorned Doug Carters Deuce Sedan, car in the background is a rare '37 Ford roadster ute , being built for a guy from WA....I'll find some pics of that one soon,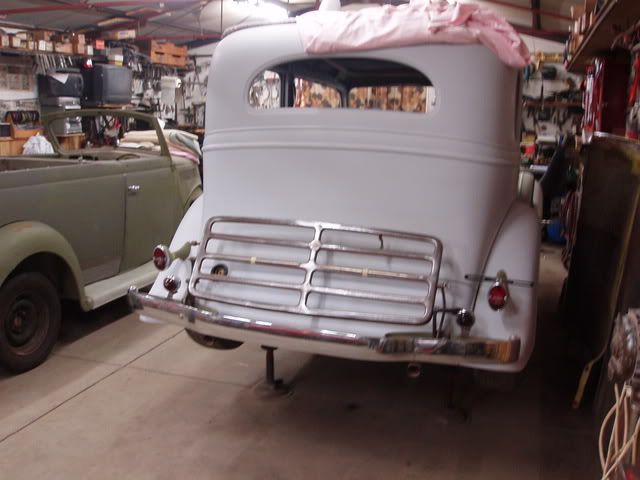 The '33 runs a 400 small block and 4 speed manual, Jag rear, Holden front channeled into the frame, boxed frame, straight LP Gas.....body has been fully steeled out. The car has just been inspected and passed by an Engineer for full registration in Vic, in these pics it has been fully assembled with all the systems in place for assessment , so that after stripping it down for paint and detail it can be finally re-assembled and finished to driving stage, secure in the knowledge that nothing will have to be changed to satisfy the engineer....bit of effin' about, but safer in the long run....
Here's some of the steelwork and seatbelt mounts,etc......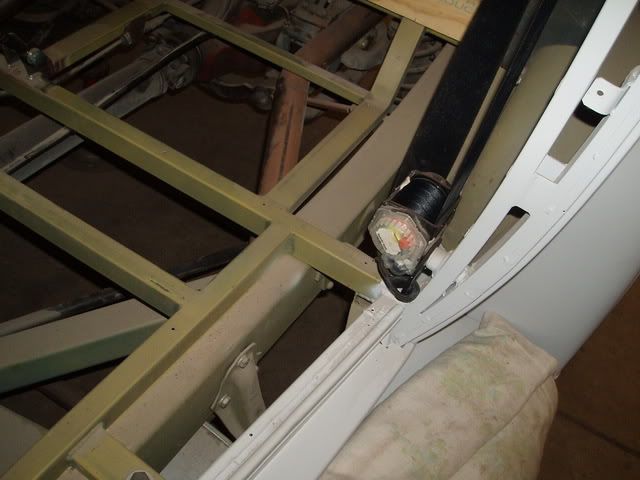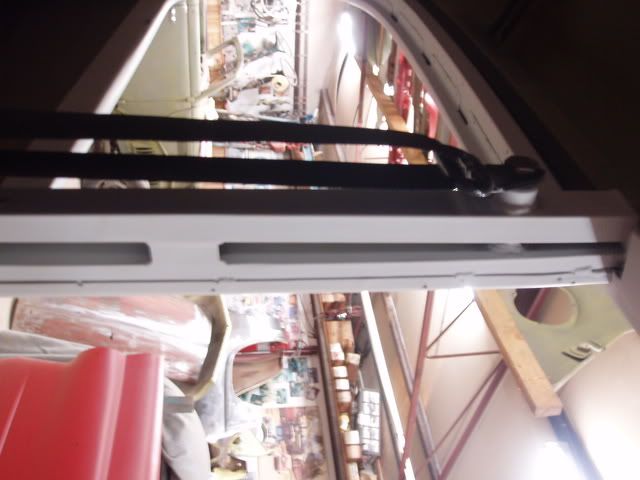 Ya gotta tilt for this one....sorry....
Next one is a '56 Ford Victoria, just been on a date with the sandblaster and about to go back in the workshop before it rains.....
....Carps' FJ to the side.....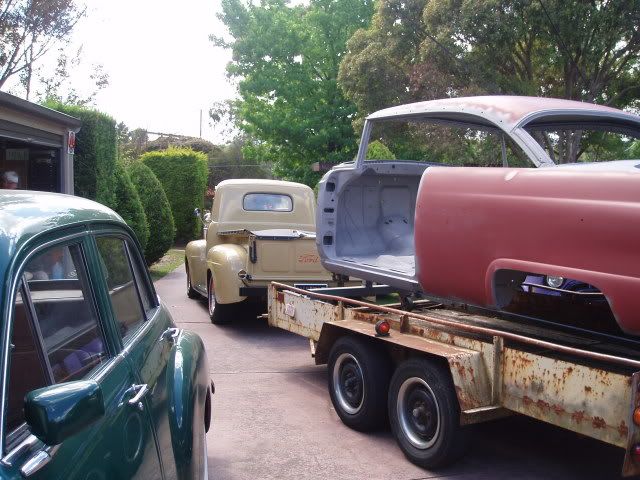 Body is pretty good for one of these, had to make up a section of front floor and another for the rear lower deck panel and also the underside of the area shown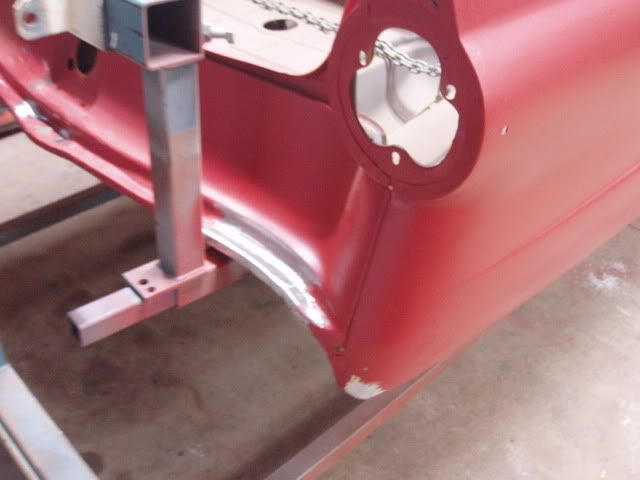 the floor section was made up to follow the exact shape of the original....looked at the repro offerings .....pretty ordinary.....figured it was easier to hand fabricate than to repair badly made repro....
The Victoria has now been fitted with a 351 C and FMX, 9" Diff, XY Discs and calipers, dual circuit m/cyl,etc. It's also now been fitted with a r/h/drive firewall and the original US dash has been sliced n'diced and fizzed back together to achieve a " factory r/h/d" look.....
It's going to be a stock looking ,slightly lowered Vic.....factory Fiesta Red and Sno-shoe white.....coool.....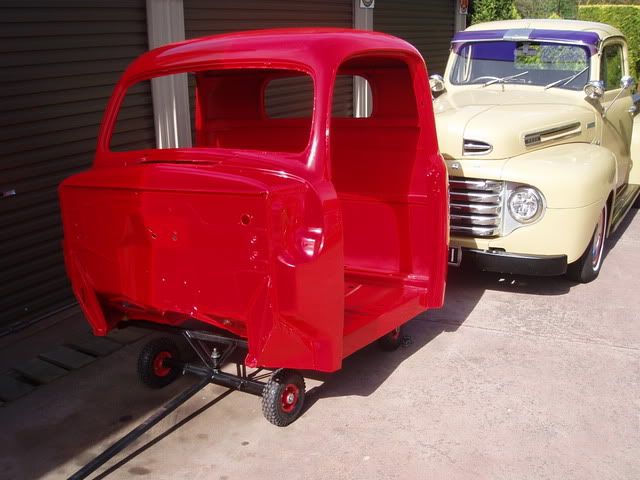 Friday was truck day.....our workshop beater/daily driver in back having just trailered this F1 cab back from the painter.......
....reckon I got it fairly straight, considering how wrinkly it was.....the cab came from an old pal from the Ford V8 club,Brian Adams......it had been buried under an accumulation of old Ford truck bits for more than 20 years.....got a neat pic of it swinging from his front end loader somewhere......
and finally it makes it back into the workshop..... this pickup was a US import, turns out the body was a bit of a stinker so we wormed this one out of cold storage and used it instead....still needed the usual rust repairs and straightening up, but at least no-one had tried to drive a bigger truck thru it.....
The frame has been finished for a while, it's fully boxed, runs a 4"stroke Merc Flatmotor,Toploader 4 sp. with a Jeep shift, 9" diff with 3.70's and a Jag front end.......next on the agenda is to strip and detail the mechanicals and then join it all back together......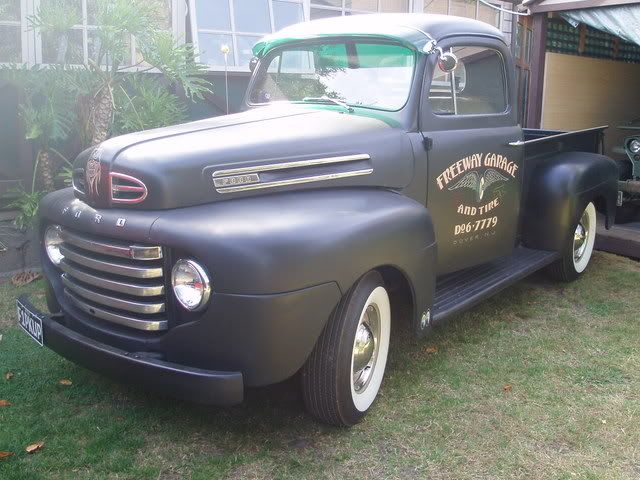 ...and then there's this one, a recent import for a local guy, it's in for a quick conversion to 12 volts, pretty much a stocker with an 8ba and Cusso 3 speed trans.
I'll put a few more pics on soon, cheers, Col.